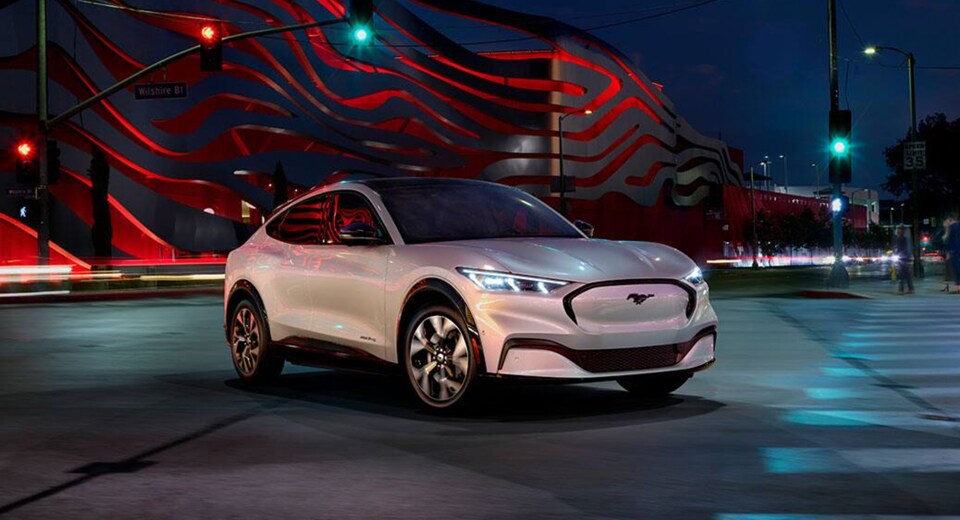 Introducing the fully-electric 2021 Ford Mustang Mach-E SUV!
Borgman Ford is beyond excited to share the exciting features of the 2021 Ford Mustang Mach-E with West Michigan SUV shoppers! Details of the upcoming all-electric Ford SUV were revealed via a live stream presentation on November 17, 2019 and what we've seen is nothing short of spectacular. From the power specs to the stunning interior and exterior design, along with ease of use and quality of life features, the Mustang Mach-E is shaping up to be something truly special.
Said best by Ford Mustang Mach-E chief program engineer Ron Heiser, "Thanks to advances in battery technology, the Mustang Mach-E is the kind of car that gets people excited about driving, with a sporty, beautiful silhouette that delivers an incredible shape rarely seen in SUVs." Based on what we've seen so far, Borgman wholeheartedly agrees, as the Mustang Mach-E busts myths and defies expectations about what it's like to own a fully-electric vehicle.
Below, we've highlighted a few key features of the upcoming 2021 Ford Mustang Mach-E electric SUV. Take a look and scroll to the bottom of this page if you'd like to learn more or start the reservation process!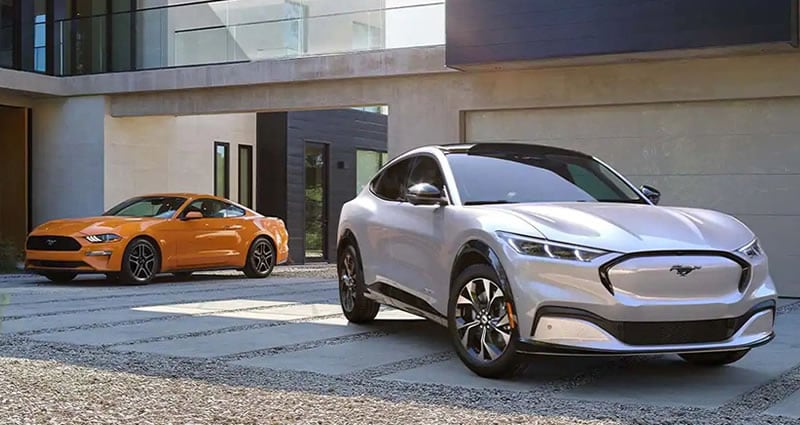 Mustang-Inspired Design: Inside and Out
The Mach-E has been designed top to bottom to inspire and thrill the same way the Ford Mustang does. From it's stark, aggressive body styling with a hint of sleek, to its sporty and luxurious interior, turning heads is what this SUV does best. However, that feeling of excitement you get when looking at it would be empty if it didn't deliver when you push the pedal down. Fear not, the Mustang Mach-E was also inspired by the Ford Mustang's legendary performance. With a targeted 0-60 mph time of around 6 seconds and even faster options in the GT line, the Ford Mustang Mach-E redefines the word "electrifying."
Even more exciting is the Ford Mustang Mach-E's available All-Wheel Drive system. Perfect for the slick conditions during a Michigan snowstorm, this system dynamically spreads torque between the front and rear axles, leading to increased vehicle stability when turning corners, starting, and stopping.
It doesn't end there. Inside the Mustang Mach-E you'll find three unique drive experiences: Whisper, Engage, and Unbridled. Each of these are presets for finely-tuned driving dynamics with their own sensory experiences. These include custom-designed vehicle responsiveness such as tighter steering, ambient lighting, soundscapes, and fully dynamic gauge cluster animations that are tied to your driving.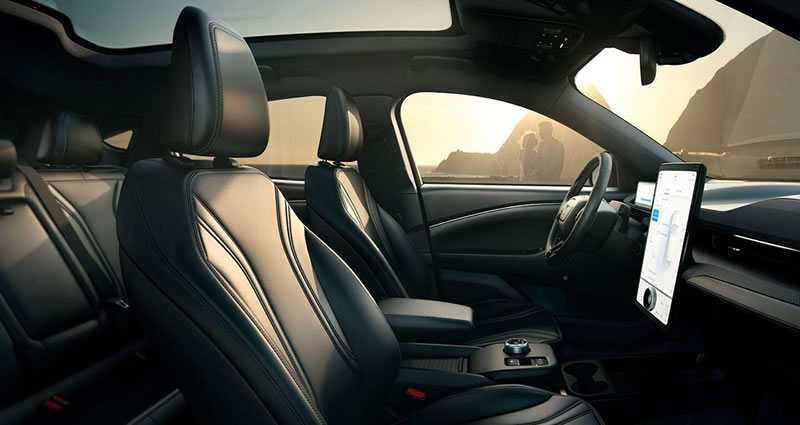 The Next Step in Ford SYNC Evolution
Making a grand entrance in the Ford Mustang Mach-E is the next-generation SYNC® communications and entertainment system, complete with an overhauled interface that uses machine learning to quickly learn your preferences. As is the case with machine learning, it gets better and better over time and updates itself over the air. This new SYNC's system boasts a 15.5-inch screen and simple interface, so say goodbye to complicated menus and access all of your favorite features with swipe and pinch controls - a staple on modern smartphones. Check out the video for more info!
Ford Mustang Mach-E Battery Options
At launch, the Mustang Mach-E comes available with a choice of a standard-range (75.7 kWh lithium-ion battery) or an extended-range (98.8 kWh battery), the latter with a targeted EPA-estimated range of at least 300 miles in its rear-wheel-drive configuration.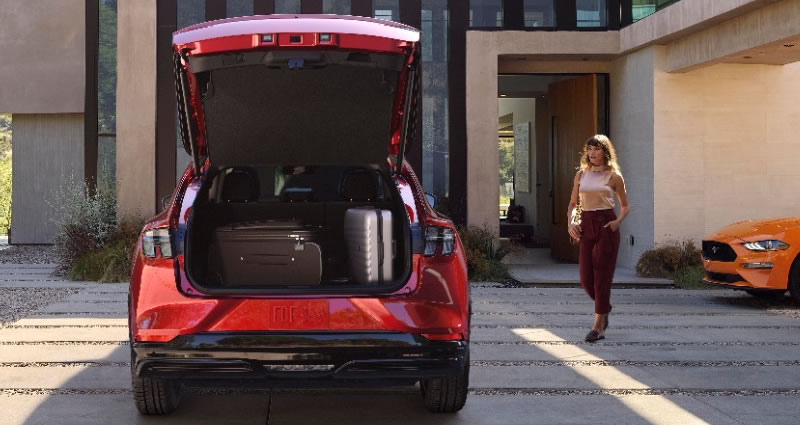 Clever Battery Placement Yields More Cargo Space
One of the perks of driving an electric vehicle is that many feature extra cargo space, and the Mustang Mach-E is no exception. Since the battery is located on the floor between the vehicle's two axles, there's no engine in the engine bay. Instead, you'll find a compartment large enough for a typical carry-on bag. This compartment also features a drain plug, so it can be filled with ice and used as a cooler!
With the batteries being stored beneath the rear seats, that also means the rear cargo area is spacious as ever - offering plenty of room for camping gear, sporting equipment, groceries, or whatever the adventure in West Michigan demands.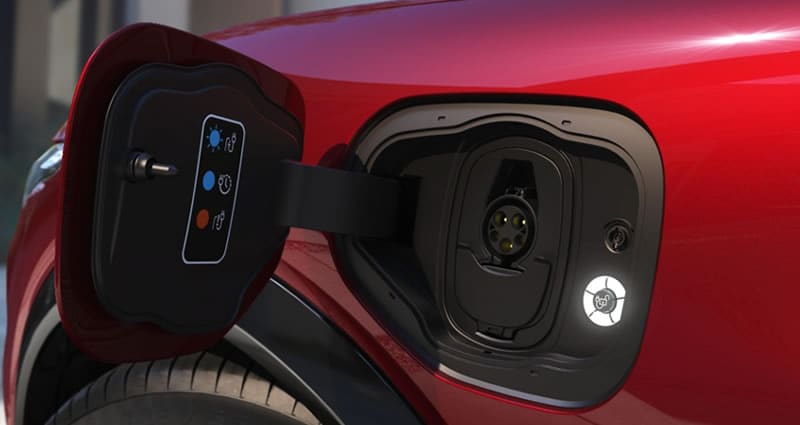 Ford Mustang Mach-E Charging Made Easy
Studies show that electric vehicle do most of their charging at their home. In light of this, Ford offers a Ford Connected Charging station capable of adding an estimated average range of 32 miles per hour on the charger (using a 240V outlet, and based on extended-range, rear-wheel-drive configuration.) Ford also includes a mobile charger with every Mustang Mach-E that adds an estimated average range of 22 miles per charging hour on a 240V outlet, the same outlet used by an oven in your home. What's more, Ford is joining forces with Amazon Home to make home installation by a licensed electrician easier than ever.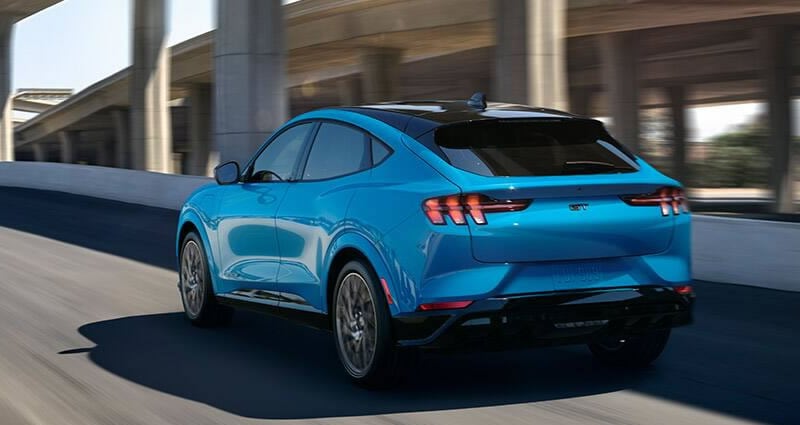 Reserve Your All-Electric 2021 Ford Mustang Mach-E SUV at Borgman Ford in Grand Rapids, MI
Want to be among the first in West Michigan to drive the fully-electric Ford Mustang Mach-E when it arrives? Visit the Borgman Ford showroom in Grand Rapids today and ask about the reservation process. Our staff is here to help you build the SUV of your dreams and answer any questions you may have about the vehicle.
There is so much more to explore in the 2021 Ford Mustang Mach-E.
To get started, Check Out Our Inventory, Click the Schedule Test Drive Button, our friendly and courteous staff will be in touch!
Come see why we're the Best in the West!
COVID-19 Resources
Hours
Monday

9:00 am - 8:00 pm

Tuesday

9:00 am - 6:00 pm

Wednesday

9:00 am - 8:00 pm

Thursday

9:00 am - 6:00 pm

Friday

9:00 am - 6:00 pm

Saturday

10:00 am - 3:00 pm

Sunday

Closed
How can we help?
* Indicates a required field