Thirty-five percent of F-150s, and 65 percent of F-Series Super Duty, are sold to commercial customers.
In fact, Ford commands a 40 percent share of the total commercial vehicle market for class 2 to class 7 trucks.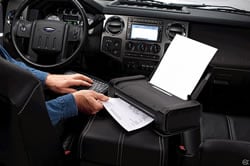 Commercial drivers need productivity-focused features for effective on-site project management. The new F-150 and F-Series Super Duty become true mobile offices with the Ford Work Solutions suite of technological tools that let the working professional:
Print and access any Word document, Excel spreadsheet or business accounting program stored on their home or office computer, make changes, and send to the battery-powered inkjet printer in their truck. Remotely access QuickBooks, engineering drawings and other files without having to load software onto the vehicle's computer.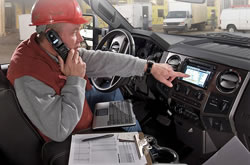 Keep track of high-value tools, safety equipment and material inventories. The driver is alerted by in-dash computer screen if anything is missing on the truck. Tool Link also saves a snapshot of the first list of the day to reference against at the day's end.
Navigate with Garmin features like re-routing due to construction or traffic congestion, finding local restaurants, Ford dealerships, Quick Lane Tire & Auto Centers, etc., real-time weather and traffic reports, and information on current fuel prices.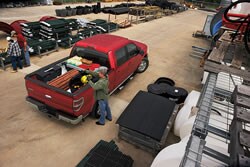 Make hands-free calls with access to their phonebooks and the ability to send and receive text messages.
Have peace of mind that their valuable business assets are safely locked away with an easily installed and gently retractable cable and MasterLock® key set.
Ford Work Solutions is available on the F-Series of trucks and our lineup of Full Size Transit Connect Vans and Transit Connect.
Commercial Sales Hours
Monday

9:00 AM - 8:00 PM

Tuesday

9:00 AM - 6:00 PM

Wednesday

9:00 AM - 8:00 PM

Thursday

9:00AM - 6:00PM

Friday

9:00AM - 6:00PM

Saturday

9:00 AM - 4:00 PM

Sunday

Closed